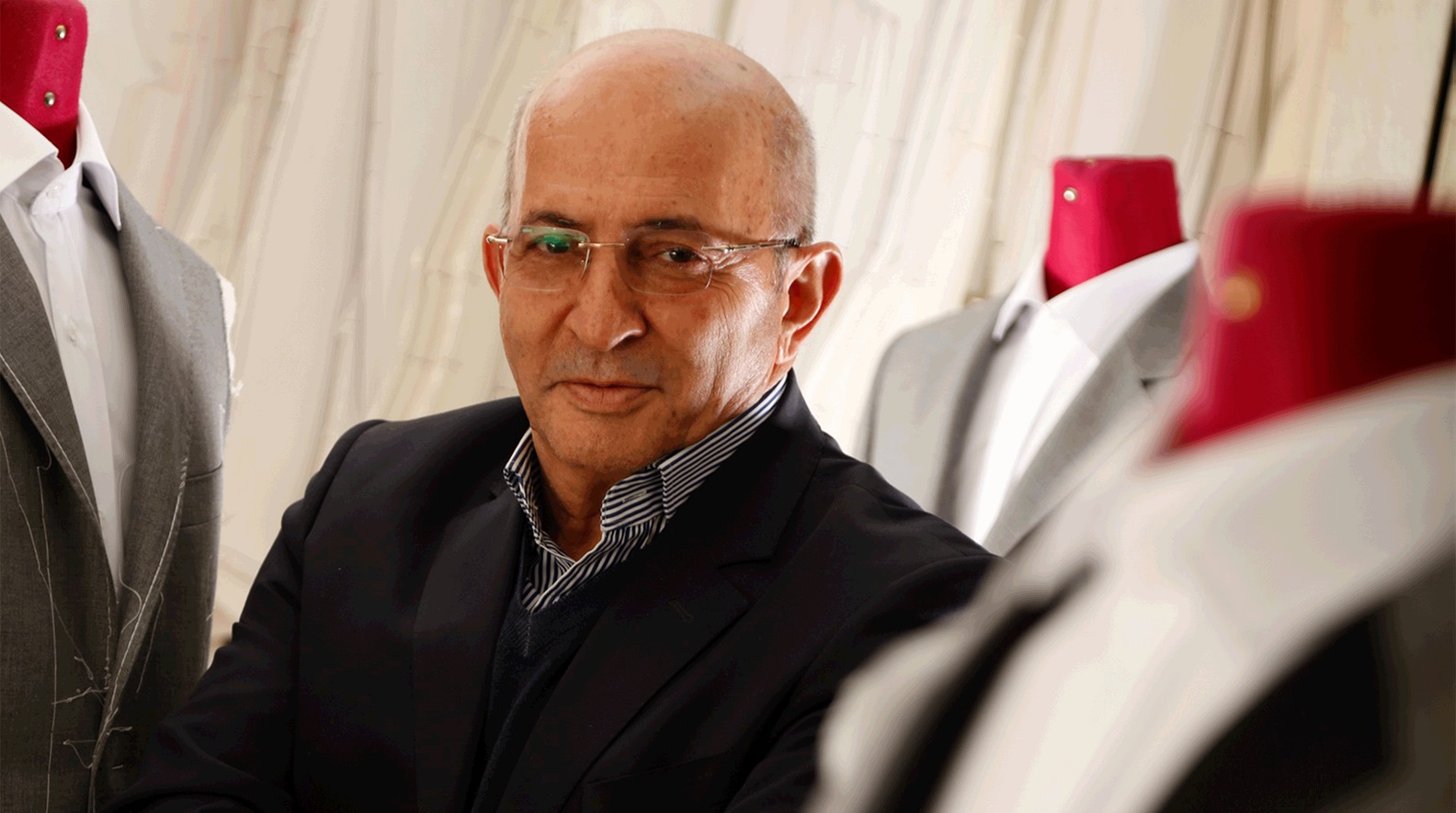 Abdolreza Niknejad
Abdolreza Niknejad was born in Mashhad in 1952. His father was a professional tradesman and a mechanical engineer graduate of TehranUniversity. Talking about his father he said: "He advised us it was not important which major we would take or which profession we would choose, rather, it is important to be the best in the career we choose." In this way, he defined the path his children would adopt based on their enthusiasm. 
After graduation in fashion course in England and due to his communication with Kourosh and JAMCO chain stores, he joined this group. He was dispatched to Europe via Jamco Factory for a three-year specialty courses and gaining experiences in industrial factories. He took different internship courses in famous companies of that time, including Marks & Spencer, Andrea Andretta in Italy and Corsini and Pierre Gardin in France. In addition, he received his Fashion Design Specialty Certificates from Marangoni University in Italy. After passing this course, he returned to Iran and worked as Manager of Clothes Design of JAMCO factory for three years. He then started his pants and trousers production line, "Behdouz" with cooperation of his friend and trade partner. Owing to his specific knowledge and experiences he had acquired to that time, Niknejad was always after implementing industrial and mass production line. In 2016, he established Jamineh Company in a place belonging to his father in Nahid Sharghi Boulevard in Jordan Street. The company started its business line with 36 workers and implementing man's trousers production line. His scientific records in computer field and his enthusiasm to bring clothes production industry of Jamineh Factory inalignment with current technology of the world encouraged Abdolreza Niknejad toimplement Jamineh Novel Computer Network system in 1988. Niknejad was interested in implementing clothes industrial factory in a vast area by using advanced machinery in accordance with the current standards of the world. In 2004, he achieved whathe waspursuing and developedJamineh Clothes Production factory in Shahrak Sanati Abbasabad on 6500 square meter area equippedwith advanced machines.
History of Jamineh
Jamineh Company was established in 1980. The Company started its activities on a business premise in 600 square meter area in north Tehran. Jamineh commenced its activity by implementing a small production line for trousers design and sewing. This initiation which was associated with industrial thought took a large step towards industrialization of Jamineh when it had only 36 skilled and professional workers. The first chain production line for trousers was established in Jamineh in this manner 
After three years of activities in garment and apparel industry and gaining a significant share of Iranian market, Jamineh factory was transferred to a property in 3000 square meter area in Aliabad Region in south Tehran for the purpose of its development and receiving industrial permit. In light of its workers' strong will and efforts, Jamineh succeeded in starting jacket production line in 1984 and started producing Jamineh Suits in Italian system and standard by delicate design and high quality. Due to the traditional market of Iran and lack of suitable place for sale of garments and apparel in chain stores of Iran, in 1992, Abdolreza Niknejad founded the chain system with cooperation of several famous brands for establishing and managing its chain stores. For this purpose, the first store was established in 750 square meter area. It was decided to have a new store opened per seven members who started activities in this complex; and after establishing the 7 stores, a holding would be created to establish chain stores. In seeking this decision, the first store, Bani Nik was opened too; however, this large project did not prove effective as other partners did not cooperate. Due to the specialty and work experiences of Jaminehfounders in distributing garments and apparel in Italian style, by the encouragement and supports of the Ministry of Industries and by aiming at clothes exports to Europe, the project of Jamineh Factory Development was implemented at Shahrak Sanati Abbasabad; and the specialized Suit production line was developed in the new project. Thus; after agreement of the Ministry of Industries and making necessary studies, by supplying the most updated and modern machinery technology, fabric cutting machines from France, press and finishing systems from Italy; and, sewing machineries from Grammy and Japan, Jamineh took a large step in theClothes Industry of Iran. The Company purchaseda plotof land in Shahrak Sanati Abbasabad almost close to Tehran for expanding the activities. As the sanctions against Iran came in effect in 2004, the factory development and implementation project was accelerated to save the projectfrom being affected bythe sanctions and safe from prevention of machinery importsin Iran. Owing to intensive works, the new factory reached utilization in 2009. This complex has been implemented on 6500 square meter area with 4 suit production lines and 2 shirts production lines with the capacity of producing 1000 sets of suits, 1000 single pants and 2000 shirts. The project created jobs for more than 900 workers.
Mission and vision
Design and production clothes for superior brands of world in Iran are the most important goals of Jamineh. Developing idea in fashion design and creating new processes for increasing productivity and qualityof products is another activity of this complex in its objectiveof be a famous name in world. Fashion designs and production at Jamineh Factory follow the current standards of world and are carriedout based on customers' demands and tastes. This company provides a specific opportunity for motivatedand persistent artists and talented persons to pursue their career in the path of growth and development of this industrial clothes production unit. Developing stores with new and variable products are among other goalsof thiscomplex in providing the customers with the chance ofexperiencing a memorable shopping. After-sale-services is another goal of Jamineh Company in meeting the best satisfaction of its customers.